Good Monday morning pals! Why yes, I mean it when I say good morning- I'm headed to the doctor this morning and am hoping to be able to
remove the boot
!
Well, I want to share some fun stuff with you! First of all, I participated in a thrifty gift swap a few weeks ago and was paired up with sweet
Sarah
. I am a lucky chick because she sent me quite a box.
I love the cute box it all came in!
Darling note cards and recipe cards....
pretty napkins...
and this really fancy necklace!
I was SO excited to open up this box, you wouldn't believe. Even Gabe was pretty impressed with the necklace!
It was so fun to participate and get to know Sarah a little bit better!!
I also wanted to share my own thrift haul with you. I was able to preview a church rummage sale on Thursday and picked up a bag of metal zippers...
...and 5 metal trays for a dollar!
I'm stoked because I recently won a goody basket of Mod Podge and was hoping to come across some trays to refinish, and now I have 5!
Have you found any good thrifty deals lately? Share!!
I'm linking up with
Simple Design
and
Hannah
's Thrifty Gift Swap today!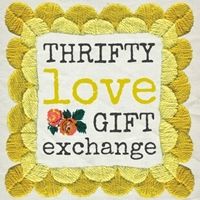 P.S. Use 40OFF at
my shop
this week to save 40% off of your order!